Leave us your feedback for tonight's show including any memories of Jay Briscoe, who we will be discussing tonight.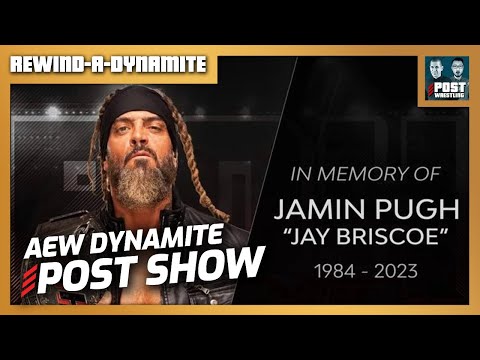 If you own the footage anyway and it's kind of proven that the typical wrestling fan doesn't care much about looking up and watching old material, shouldn't you do these video packages like the one for KUSHIDA? You spent on the ROH footage; use it to build stuff more often. There was NJPW footage too, but it all immediately made KUSHIDA seem legit enough to main event for a title despite never being on AEW TV before. Even if someone does tune out, microtargeting on what gets numbers and what doesn't really seems detrimental to making a cohesive, longer form product. Anyway, KUSHIDA rules, and he did here, unsurprisingly, while Darby continues to be amazing with anyone. You knew the dojo boys were gonna get it at some point, and that Last Supper pin is one of the best 'trap' finishers.
The Young Bucks put Private Party over in a similar way in 2019. These guys haven't had a bad match in a decade, and while Top Flight deserves props, The Young Bucks are the elite standard, even without the pun. That was my match of the night, but only by a hair over whatever insane shit Bandido was pulling off.
Saeed from Vancouver
Another strong crowd for Dynamite.
A night of amazing matches, but Match of the night has to go to Bucks vs Top Flight. Now let Top flight get a mystery third and challenge for the trios titles as the acclaimed are busy still.
Speaking of the acclaimed weird segment with the Gunns. Something tells me Daddy ass turns back heel.
Danielson and Bandido very fun and given a lot of time. Weird seeing the crowd booing Danielson, but they love them some Bandido.
And what can be said about the mainevent, but another great match by Darby vs Kushida
I was going to say its good to see the women given more stories… but now it seems they have paused the women's title one for this.
Not sure if this is true for you guys, but for weekly tv for WWE I find myself looking forward to segments, while in AEW I look forward to matches.
Top Flight/Young Bucks was very fun. Loved Matt and Nick's tribute to Jay Briscoe and I dug how it framed Top Flight's victory over them as a result of the Bucks' focus on the trios titles and i hope their trajectory continues upward. Bandido/Danielson ruled, Starks continues to stunt on the JAS (free Daniel Garcia!)
I was more confused about Saraya and Toni leaning heel going forward. What is that gonna lead to? Britt Baker and Jamie Hayter still exist (can we turn Jamie, pls?)
Darby Vs Kushida was a solid main event.
For me, my top Jay Briscoe memory has to be the ladder war with Mark Vs Owens and Generico.
Good evening gentlemen.
Taz on commentary never disappoints. His "I know my letters" line during the Jay Lethal fingers in the air taunt made me legitimately laugh out loud in a room by myself.
I was pleasantly surprised by the Top Flight victory tonight. Hope this leads to a more prominent role for them in the tag division, and not just a one-off trios title match with the elite, although I'm not going to complain if we get the trios match first.
In both of your opinions, what are the chances we see The Bucks, Kenny, Hangman, & Cole on the same side of the ring at some point this year? They're all faces, and Hangman hinted at mending fences during host promo. Unless its a red herring and he's gonna make up with the remaining members of Dark Order.
Let's see if Danielson can go 3 for 3 next week with amazing performances. I'm sure him and Cage can make magic, but they definitely have 2 tough acts to follow after these last 2 matches.
Definitely need more Kushida in AEW in my life. I've missed seeing him perform and hope we get to see him regularly again.
Thanks and have a great night!
Cody From Maine
Really struggled, as I'm sure many did, to get into the show tonight. That said, it was a really solid edition.
The in-ring work was good to excellent, particularly with Danielson and Bandido living up to the hype. And storyline wise, this was an exciting episode as well. A much needed heel turn for Saraya that also serves as a chance for Toni to freshen up her character. And Hangman could go in a variety of different directions.
A question to end my feedback…how do each of you see the Starks/JAS feud ending at this point in time? What's the destination? Another Starks victory over Jericho? Do we see a swerve with Andretti? Does it's focus turn towards Garcia/Jericho? And are any of those destinations particularly exciting to you?
Thank you both as always for the show. RIP Jay Briscoe.
Mahmood from Bahrain
This episode of Dynamite was technically great, but it left a bad taste in my mouth. It is flabbergasting that a tribute was not done for a wrestler who was an active member of your roster and had the adoration of many of his peers. I understand that TK may not have had a choice, but not even doing a ten bell tribute or video package makes me feel like there should have been pushback to WB from the AEW team. I'm not trying to excuse Jay's comments as they were awful but he has served his time and never doubled down or tried to make excuses. He has shown growth which is something you can't say for many other wrestlers who have had a history of offensive comments if you compare his situation to that of a Tommy Dreamer. If we can do a ten bell salute and a whole award for the Ultimate Warrior, who never showed remorse and was not even a member of the roster at the time of his death, then this issue becomes that Warner Brothers didn't want to pay tribute to Jay because he wasn't a big enough star to justify some of the pushback they may have received for dedicating an episode of dynamite to. Rest in peace to Jay Briscoe and I pray that his kids are able to recover from this tragic incident.
Chris in Ottawa
Hey guys. Tough to review something under such a dark cloud, so my heart goes out to you - I thought the performers were really incredible to perform as well as they did, given the circumstances. And the Hangman/Mox sweetness warmed my heart.
Most of all though, I want to acknowledge the incredible discussion with Jordan at the beginning of tonight's show. It was extraordinary, and I think will stand up to any potential recency bias on my part as one of POST Wrestling's finest moments.
10 out of 10