Tune in to Rewind-A-Raw with Wai Ting & John Pollock at 11 p.m. ET.
Leave your feedback / questions below.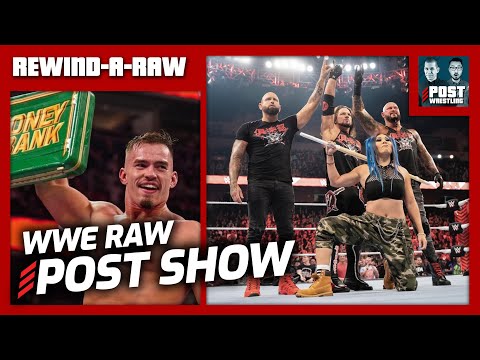 Saeed from Vancouver
What was up with the audio today? Everyone around the announcers sounded muted and or muffled… you couldnt even hear the refs count.
An absolute classic promo that should have just been left as is by the Usos and New Day… instead ruined by Riddle… at least the match to follow was given lots of time and was good.
I see two options for Wargames… either Rhea joins Damage Ctrl with either Candice and Mia joining the other side or Sasha and Naomi if its left as a surprise.
We haven't seen the 24/7 title since Hunter took over creative and today its defended and then tossed in the trash… why?
So… instead of having Theory just go to NXT and hang out there since clearly Hunter doesn't have anything for him… he does this… Why not just have him lose the briefcase to someone… or wait they had until July. Just utterly stupid. COULD have just given the briefcase to KO or Sami… imagine the golden story telling there… but here we are… I'm just baffled.
Alexander from Portland
The good: The Usos winning tonight. I can't imagine how tired they are with those Saudi flights and their Crown Jewel match. Amazing promos too.
The bad: pretty much everything else on this show. The crowd was noticeably quiet tonight, and the various surprises felt flat. Nikki won the 24/7 Title, I felt bad for her. I used to be into the dorky Gargano/Miz/Lumis feud but tonight it soured on me. Does Dexter Lumis look silly not talking and admitting this truth about his relationship with The Miz? Couldn't he at least make a drawing? His lack of communication is really not helping this story.
The ugly: Seth and Theory, big time oof.
New Day/Usos has been done multiple times in the last 5 years but Woods was on one as he and Kofi made their match on Friday feel must-see and it put over how important their 483 day record is. Give them 30 mins in the main event of SmackDown. They deserve it.
Rest of the show hummed along for WarGames' build and it was nice to see Mia Yim back in the fold…despite the Mohegan Sun's lack of atmosphere.
Seth's US Title open challenge took me on a wave of emotions with Lashley attacking him and Theory cashing in his briefcase on a title he won before…until Rollins retained!
Theory losing after all that was a clear message that HHH undone a booking mistake that Vince made when he was still in power. I'm still laughing about it.
Did we see a double turn with Rollins and Lashley?
Jay from Colorado
The best of Raw definitely happened in the first hour in my opinion. Even though the Usos and New Day/Riddle took up a large part of it, the wrestling was good enough.
I thought Gargano came off as kind of obnoxious, and if I was someone who didn't know him from NXT I wouldn't have much reason to get invested in him. He's coming in with this huge "revelation" that the Miz is a snake oil salesman and its like "yeah dude have you not been watching the main roster over the last two decades, we know this about the Miz, you aren't telling us anything we don't know."
Also, I wonder how many kids are gonna try to smuggle a universal remote into WWE shows after that Gargano bit to try to mess with the tron.
The rest of the show was so so. Glad I had some other things to do otherwise it would have been a rough slog.