Leave us your feedback and questions for Rewind-A-Raw.
We will be streaming the show live on Tuesday at Noon ET: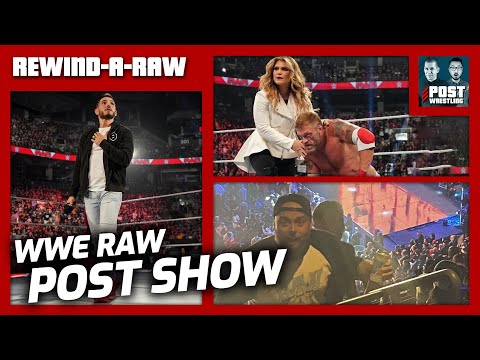 Best Raw of the year? Possibly
Surprises hit harder when they're kept under wraps. It may have been a forgone conclusion but Johnny Gargano returning was a helluva surprise. Theory being his first feud makes sense given their NXT history. In a meta sense, it also represents two distinct visions of WWE.

DK and Iyo Sky vs Asuka/Alexa was solid. The little sampling of Iyo and Asuka was enough to whet my appetite for when they will face off down the line. Bayley looked good in her first match in over a year.

Kevin Owens is now the best version of himself. Him and Gable put on a good match and it was very cool to see him play the conquering hero (at least for one night, depending on when Sami will turn)

Bookending the episode with Trish Stratus and Beth Phoenix was another example of putting women's wrestling front and center.

Edge is 48 years old and he pulled off a Canadian Destroyer…in Toronto! (Imagine that!) him vs Priest was a great main event.
Now, the first thing is… It's amazing how a few simple changes have made these shows infinitely more watchable.
• Looser commentary.
• Promos also feel looser.
• Fewer screwy finishes.
• Broader match-ups.
• Matches getting more time.
• More fluid camera work and transitions between segments.
WHAT ARE SOME OF THE THINGS Y'ALL ARE NOTICING?
I'm enjoying this Ziggler reclamation project, even though he's taking L's, he's less insipid in promos and having banger matches.
And other talent reclamation — KO, getting his old entrance video and gear. He had another seemingly impromptu banger of a match.
The women's division is on fire. Tag titles and matches seem to have more meaning.
Edge vs. Damien Priest was a banger. They have us soooo much.
But, JOHNNY FUCKING WRESTLING! Solid promo, into a program with Theory. Austin Theory is in a meaningful storyline now, not some wash of a feud that diminishes titles and not some creepy-ass mentorship storyline.
Loved it. Hot crowd. Cool shit.
Steph, Nick & Paul are a dream team so far. Now, if they could just stop taking blood money, we'd be all good.
Great show.
I find myself looking forward to WWE shows now which is very surreal.
Just two questions:
Were they expecting such a big pop for Johnny ? It was quite ballzy to send him like that. Did he get a bigger pop than Edge ?
I'm really happy that he's back.
Nas
Best Raw I've seen in years and years. Watched the whole 3 hours for the first time in a long time. Absolute banger matches. The Raw roster looks stacked now both men and women.
If I'm nitpicking, I thought the opening promo segment wasn't the best use of Trish Stratus. It felt a little awkward. Should have just gone straight to the match and used Trish differently. Also Finn Balor maybe does need a script or a writer working with him. 6-1-MINE? And hat was the point he was trying to make to Dolph? Didn't make a sense at all.
Question: How does Kevin Owens' refusal to go to Saudi Arabia (which I fully support) affect his push for a World title run?
Hernis from NYC
Might be the best RAW I've personally seen in years (I've been on and off watching the last 5 years). Crowd was hot. Johnny Wrestling is back. Prizefighter Owens is back with the tape shirt. Dexter just committed a crime on live TV. Wonder who the other guy was, a random from NXT? Also will we make this a weekly thing, just kidnap a wrestler every week?
Man does Bobby continue to get loud reactions. Great to see.
Do we see a 4 mixed tag or 6 mixed tag with Beth coming in at Clash?