Post your feedback & questions for Rewind-A-Raw.
Tune in live on the POST YouTube channel immediately after Raw: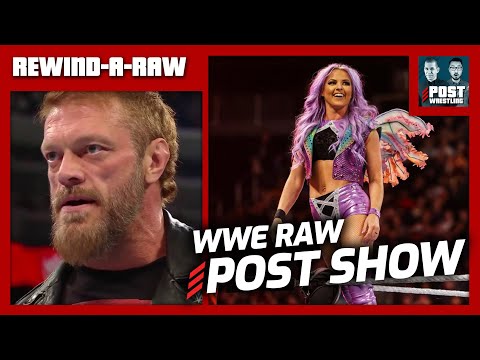 Hernis from NYC
This Dexter/Miz storyline has gone like 3 weeks too long. What exactly is the endgame here? Like yeah it was cool to see how he would pop up but now it's just whatever.
Not the pop WWE was hoping for with Candice. Even Jimmy had to say… "the crowd can't believe it". Guess this is one of the "many" people Paul was mentioning of coming in who no one has talked about.
Going to be awkward to have the DX reunion with no Billy but they did cut him all videos they showed to promote it
Lastly, nothing makes Corey happier than correcting Jimmy Smith
Raw minimized the distraction finishes to a considerable extent. Overall, it was another entertaining outing. Belair/Sky was a strong opener, Alpha Academy vs Owens/Gargano was very fun. I have no clue what the endgame is for Miz/Lumis. Candice LeRae showing up was a pleasant surprise and i'm very, very happy she's here. Styles/Zayn furthered the Sami/Sikoa bond and Riddle/Priest was a solid main event with a clean finish. Edge's return was easy to see coming and Edmonton reacted accordingly when his music hit.
Extreme Rules went from having 1 stipulation match last year to having 5. It's like the old man purposefully chose to shy away from it. HHH embracing the PPV's theme proves how much thought he puts into booking.
(Johnny and Candice both made their returns in Canada, how dope is that?)
Bel Air vs. Sky was damn good. Looking forward to Edge vs. Balor, it feels like they could have a real banger. Rollins poor forehead, ouchies.
CANDICE LA RAE!! Couldn't love it enough, If Steph/HHH's era means more talent that deserves a shot to perform and get that chance, then I will continue to love what they're putting on the screen.
I'm also all-in for Panda Express.
Sami & Solo are my new fav power couple.